Addiction Science 2019 Meeting &amp Hospitality
Address
Holiday Inn Rome
Aurelia Via Aurelia
Km 8.400 00165
Rome, Italy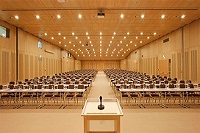 The City
Rome, the Eternal City, is the capital and biggest city of Italy and of the Lazio area. It's the renowned city of the Roman Empire, the Seven Hills, La Dolce Vita, the Vatican City and Three Coins in the Fountain. Rome, as a thousand years in length focus of intensity, culture and religion, has applied an enormous impact over the world in its about 2800 years of presence. It is arranged on the stream Tiber, between the Apennine Mountains and the Tyrrhenian Sea. Today, the city is the seat of the Italian government and home to various ecclesiastical workplaces. Rome has 2.6 million occupants while its metropolitan territory is home to around 4.2 million.
"I found Rome a city of bricks and left it a city of marble."
-Augustus, Roman emperor
The notable focus of the city is an UNESCO World Heritage Site. With great castles, thousand years old houses of worship, amazing sentimental vestiges, lavish landmarks, elaborate statues and effortless wellsprings, Rome has an enormously rich verifiable legacy and cosmopolitan environment, making it one of Europe's and the world's most visited, acclaimed, powerful and excellent capitals. Today, Rome has a developing nightlife scene and is likewise observed as a shopping paradise, being viewed as one of the fashion capitals of the world (a portion of Italy's most seasoned gems and apparel foundations were established in the city).
Directions
Leonardo da Vinci International Airport
Via dell' Aeroporto di Fiumicino, 00054 Fiumicino RM, Italy
Take
Via Francesco Paolo Remotti
and
Via Mario de Bernardi
to
A91
Continue on
A91
. Take
Grande Raccordo Anulare
/
A90
to
Via Aurelia
in
Roma
. Take exit
1
from
Grande Raccordo Anulare
/
A90
Continue on
Via Aurelia
to your destination
Holiday Inn Rome - Aurelia
Via Aurelia, Km 8,400, 00163 Roma RM, Italy
Route Map